4.5-28x52mm Super ED Glass - Compact - Wide Angle View

D28HV52WFIML Illuminated Reticles

Exposed Tactical Knobs + 6 Level Illumination module
This scope has 2 Super ED lens elements within its new lens system.
By using Super ED lens elements, we can suppress chromatic aberration even more than with ED lenses
and thus produce a sharper image with greater contrast, while still having a strong scope.

Temperature Anti-Drift Lens System
In the latest optical systems, a new lens material has been developed to accommodate changes
in environmental temperature by altering the refractive index of the lenses.
This new lens material has been adopted to create a more stable lens system
that naturally adapts to changes in temperature to maintain focus and clarity over a wide range of conditions.

Wide Angle Eyepiece
25 Degree Wide Angle Eyepiece will enhance FOV throughout the 6.2 magnification range.
Compared with our standard scopes with 20 degree, this is wider by 25%.
This scope was developed with practical precision shooting competitors in mind,
but ease of use and compact configuration make it equally at home on nearly any shooting platform.

When comparing top-tier riflescopes with high-end optical systems equivalent to the High Master lens system,
the short length (318mm; 12.5") and light weight (845g; 29.8oz) of the March-FX 4.5x-28x52mm is exceptional but will not be as sharp as the 10-60x or 6-60x High Master series.

Fast focus eyepiece
The diopter adjustment mechanism has been improved so you can adjust the eyepiece to your eye faster than ever before.

Technical Data
Technical Data
Includes:
Sunshade
Lens Cloth
MD disk
Middle focus wheel
Large dial
Fast lever
Battery (CR2032)
6-level illumination module is a standard specification for this model.
Hex key Scope Size A 318mm (12.5inch)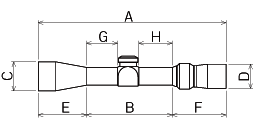 Please click here to read the March Scope ordering process and to see delivery times before placing an order

LongRangeSupply.com is not responsible for specification or typographical errors. Specifications subject to change without notice. Verify all specs with the manufacturer before purchasing.
4.5-28x52mm ILLUMINATED Reticles Super ED Glass - Wide Angle - Exposed Tactical Knobs March D28HV52WFIML